We value and understand the interactions between and within natural systems and human health
We envision a community working together to protect and enhance San Diego's natural environment through education, advocacy and direct action, and to ensure access to the coast where feasible.
To promote healthy natural systems in San Diego by inspiring a deeper understanding and appreciation of positive environmental change and advocacy while working to improve the quality of life and economic vitality of our community.
Increasingly, Mother Nature needs representation. Someone has to stand up for the environment when no one else will. While various organizations address environmental concerns many issues are left to chance. It is important to protect the environment on an individual, organizational and governmental level. No one organization connects all the environmental groups and environmentally minded individuals grappling with the ever-present pressure on San Diego's natural environment. It is our goal to protect and enhance the natural environment of San Diego through education, activism and direct action. We can be part of the solution. The key to solving some of our big environmental issues of the day like climate change and loss of biodiversity is through education and stimulation of positive action right here at home in the community of San Diego.
Board of Directors: Who We Are
Pamela Heatherington
Pamela Marshall Heatherington graduated with a degree in philosophy from California Polytechnic University at San Luis Obispo CA. Ms Heatherington put her degree to work in connecting the health of the environment to the health of people.
Ms Heatherington served as executive director of the Environmental Center of San Luis Obispo during a hiatus from her career in medical administration. Pamela also served on the Board of Directors for several years afterwards. Her accomplishments at the Environmental Center were numerous including an environmental summit that brought all environmental groups in the county together to network and share ideas. Ms Heatherington was also responsible for bringing the local coastal cleanup day efforts under the wing of the center.
Throughout her career Pamela has volunteered her time and commitment to various environmental and health related organizations. Ms Heatherington served on the San Luis Obispo County Health Commission for over a decade receiving recognition from the County Board of Supervisors for her environmental and health related efforts. Throughout Pamela's service on the Commission she served on the Domestic Violence Task Force and the Pesticide Use Task Force.
Ms Heatherington's volunteer energy was also directed towards serving as treasurer for the San Luis Bay Chapter of the Surfrider Foundation, as a commissioner on the Atascadero Planning Commission, a founding partner of the Marine Interest Group out of Morro Bay CA, Chair of the Santa Lucia Chapter of the Sierra Club conservation committee and a member of the National Toxics Committee, Pamela was also a founding member of the Organization for Regional Coastal Activist (ORCA)
In addition to being recognized by the Board of Supervisor's Resolution, Ms Heatherington has also been awarded the League of Women Voters Rhodes Award as well as the Bill Denneen Environmental Award.
Upon returning home to San Diego, the dream of having an environmental center in Ms Heatherington's home town became a possibility.
George Heatherington
George Crosby Heatherington was born in La Jolla, California and was raised in, on and around the beaches, bays and streams of San Diego.
George served as a U.S. Army officer in Viet Nam and studied at the University of California San Diego. He has had a 45 year career in dredging and crane operations and has been San Diego County Apprenticeship Coordinator for Operating Engineers Local #12 for the last eight years.
Mr. Heatherington is a lifelong swimmer, diver and surfer and has hands-on experience in the enhancement and restoration of wetlands, waterways and estuaries from Mendocino to Mexico.
George brings valuable experience to the Board.
David Grubb
David has recently joined the board of the Environmental Center of San Diego, continuing a long-standing interest in coastal conservation.
Dave has been a member the San Diego Chapter of the Sierra Club since 1995. He has served the Sierra Club in a variety of roles, including serving on the executive committees of the North County Group in 2003, the North County Coastal Group from 2004 to 2015, and the San Diego Chapter from 2004 to 2014. Dave is currently Co-Chair of the state-level Sierra Club California Coastal Committee and is an at-large delegate to the California-Nevada Regional Conservation Committee.
Dave is a member of the Surfrider Foundation and the San Dieguito River Park Conservancy. Dave was also a founding member of the ORCA network. Dave has been a board member of the League of Conservation Voters San Diego since 2004.
David Evans
David's personal mission is to find and share the truth with as many people as possible. He believes quality education will help us make more informed decisions about environmental problems and build a better future for ourselves.
David is an expert in digital marketing and communications. He graduated from UCLA in 2011 with a degree in Environmental Studies and Geospatial Information Systems. He has worked in federal, state, and private environmental organizations with a mission of conserving our natural resources.
As a member of ECO SD, David assists with new technology implementation, supporter recruitment, and growth of awareness.
John Redlinger
John grow up in San Diego, living in Carlsbad since 2002, after returning from St. Louis Missouri where he worked for the Anheuser Busch Companies
John served pro bono on the board of trustees for the La Jolla Conservancy to provide technical advice with the Scripps Park Project and Whale View Point Enhancement projects. He is a Board member of the California Surf Museum in Oceanside.
John is a licensed architect in the State of California, spending over 40  years in the construction world as an architect and a Corporate project manager executing multi million dollars projects from conception through final completion. He graduated from Cal Poly Pomona with an Architecture degree where he pursued graduate studies in Urban Planning. John holds a National Council of Architectural Boards certification.
Carrigan James
Carrigan is dedicated to fostering a sustainable future that benefits the natural environment and the people. Her devoted passion began during her undergrad career while obtaining her Sociology degree at UC Santa Barbara. She worked in community outreach to fight against the construction of 750+ new oils wells in Cat's Canyon, Santa Maria, through building volunteer coalitions and engaging community involvement.
Carrigan is a trained paid and social media marketing professional specializing within the nonprofit industry sector. In her free time, Carrigan loves to do anything outdoors, including hiking, backpacking, and on Sundays, you can find her reading in a hammock at Kate Sessions!
Marie Brown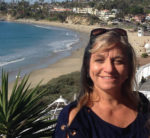 Marie Brown is a California licensed attorney who has spent over 25 years advocating for justice and equity. Ms. Brown has had a lifelong passion for conservation. She is an avid environmentalist who has led dozens of San Diego beach clean-up events, worked as an interpretive volunteer at the San Diego Zoo Wildlife Alliance Safari Park for six years, and conducted scientific research to help support efforts to save many threatened local species. Her advocacy work for the Environmental Center of San Diego began during her internship with the organization in the Fall of 2021.
As a 2022 graduate of the Miami University Masters in Biology – Project Dragonfly program, Ms. Brown has spent the last two years developing expertise on the environmental issues that impact San Diego wildlife and habitats. She is focusing her graduate degree thesis on the implications of the California Environmental Quality Act. Ms. Brown is eager to engage the public to participate in policy initiatives that directly impact the biodiversity of her beloved southern California and to prevent habitat fragmentation. She lives in the Scripps Ranch community of San Diego, California with her husband and daughter, and spends her free time caring for dogs, cats and equine friends.
Leah Sheets

Leah was born and raised here in San Diego and she grew up exploring all of our beautiful beaches and canyons. She spent much of her childhood at the San Diego Zoo, which was what ultimately ignited her love at a very young age for conservation of this planet, its ecosystems, and its animals.
Leah graduated from California State University of Long Beach. She currently resides in North County San Diego where she owns and operates two small businesses with her husband. Leah enjoys staying active in San Diego with hobbies like hiking, running, backpacking, spending time in the ocean, and volunteering
She has joined the Environmental Center of San Diego organization because she wants to make a difference in her city and its local counties.
Laura Hunter
Laura is committed to economic and environmental justice and protection of the environment for all beings who rely on it.
During her work life, she served as an Associate Director for Environmental Health Coalition for 24 years. As an advocate for EHC, she was instrumental in securing the decommissioning of the South Bay Power Plant, the creation of the 2,000-acre South San Diego Bay National Wildlife Refuge, securing environmental justice commitments in city General Plans, remediation of multiple toxic sediment sites in the Bay, creation of early watershed protection programs.
Currently, she is committed to remediation of the Chatham Barrel Yard Waste site, protecting and preserving her local watershed, supporting sustainable jobs and policies, and facilitating experiences with the natural world for all children.
She has lived in Escondido for 25 years.
A Letter from the Board of Directors
Conceived as an organizational tool, The Environmental Center of San Diego was incorporated as a 501c3 non-profit with just 4 board members in 2015. Today our board includes 6 dedicated environmentalists with long experience and professional success.
We have tasked ourselves with the protection, enhancement, restoration, and – in urban areas – expansion of our shared natural environment. This includes public advocacy at all governmental levels, outreach to all environmental organizations, public education at community events, and advocacy for and supervision of State of California mandated public coastal access and easements.
Again this year we host our annual Environmental Leadership Summit and welcome all of the diverse community organizations, groups, and individuals whose interests and goals range from neighborhood projects to regional, statewide, national, and global efforts on behalf of the natural environment. We also have assumed management of a forty-year effort, now in the design stage, to open a long obscured public access trail at Princess Street in La Jolla. We hope to announce its availability soon.
The triple threat of climate change, water and air pollution, and degradation of wildlife habitat must be met with concerted efforts to educate for public awareness, organize for public support, and cooperate in public action.
How can others help us? Follow us on Facebook and through our website. Support the local, regional, and national organizations we list here. Contribute to our efforts either online or by mail.
Thank you
With Your Help, We are Making The World a Better Place
It is our goal to protect and enhance the natural environment of San Diego through education, activism and direct action. We can be part of the solution. The key to solving some of our big environmental issues of the day like climate change and loss of biodiversity is through education and stimulation of positive action right here at home in the community of San Diego.
Your Donations Make a HUGE Impact
Sign up for the ECONews email list to get alerts and news from environmental organizations. This is an announcement-only list, not a discussion list. We will limit it to a maximum of one message per week, except in cases of urgent requests from local organizations. To request an alert or provide a news item, send an email to ecosandiego6@gmail.com