Q & A with a Local Marine Biologist Turned Science Communicator
Curious about the state of our waters, what's at stake, and how in the world you can contribute to solving the most pressing problems? Local marine biologist, Ellen Spooner, pulls back the curtain on ocean conservation to give us a look at the problems we are facing and how we can solve them. Get insights on the unprecedented challenges we face, learn about some solutions that make this marine biologist optimistic, and see how you can get involved here in San Diego.
It started with a brief encounter – a quiet paddle along the beach in Mexico, when Ellen Spooner watched a dolphin pass softly underneath her kayak. "Right there, my passion for the ocean began".
Spooner is a marine biologist from the University of Arizona, followed by a graduate degree studying fisheries at the University of Michigan.  At Michigan she spent her time doing research, gathering data, and writing articles.  But when the results were found, it often ended there. She was frustrated when the news and information learned didn't dissipate to the public. "There was all this great science happening, and not many people knew about it."
That led her to embrace a new problem: putting scientific research and discoveries in front of the masses. Now she is a Communications Specialist for Leading Solutions in support of National Oceanic and Atmospheric Administration (NOAA)'s Integrated Ecosystem Assessment program, by way of the Knauss Marine Policy Fellowship.  She is the host of The Ocean Optimism podcast and lead editor of their website and social media content.  Though today she is talking to us solely about her personal views, as someone with a deep love for the ocean.
"I want to increase the sense of wonder about scientific discoveries and inspire people to take care of the ocean."
She continues to help scientists tell their story and share work with people that can use the information to improve our marine ecosystem.  I talked with Spooner to try to shed light on this growing concern, and learn what could be done.
What is the state of affairs in Ocean Conservation?
"Our ocean is facing unprecedented challenges, from warming ocean temperatures to plastic pollution. Climate change is causing species to shift where they inhabit in the ocean and generally moving to cooler waters."
This has been observed in several different species, from the east coast of the U.S., to the west coast of Africa, to Iceland. But the capabilities of marine scientists are also improving, Spooner points out.
"Our ability to collect and analyze data is greater than it has ever been. For example, scientists are now using drones to help scientists count how many marine mammals there are. This data helps scientists better understand our ecosystems in ways we have never been able to before. There is also a massive increase in engagement and awareness of many of the environmental issues we are facing. The more people getting engaged is creating more ideas for solutions."
Spooner points to how recently, scientists discovered certain corals seem surprisingly able to survive and even cope well with climate change. Researchers subjected Hawaiian corals to a simulated 2ºC world for nearly two years. They found that two common coral species were especially resilient.
"Much of the focus is on understanding and adapting to how climate change is affecting marine life. Many scientists are trying to model this so we can make decisions on how to best protect these species from these changes."
In addition to the U.S., there is an international effort to address climate change impacts on the ocean.  French President Emanuel Macron recently hosted leaders for a three-day conference to discuss fish and sea management, and coordinate research efforts among countries.
The European Commission started an action plan to protect marine ecosystems and fisheries as part of the EU Biodiversity Strategy for 2030. Among their goals is to completely ban the practice of bottom-trawling, where massive nets are dragged along the ocean floor to catch fish.  The process is both extremely detrimental to marine life, and for our global CO2 footprint – as it releases carbon trapped in the sediment.
What are the biggest problems scientists are addressing?
"While climate change is the top priority for most research institutions as it impacts everything, plastic pollution is another problem scientists are working to address but we don't have as comprehensive of a solution as we do for climate change."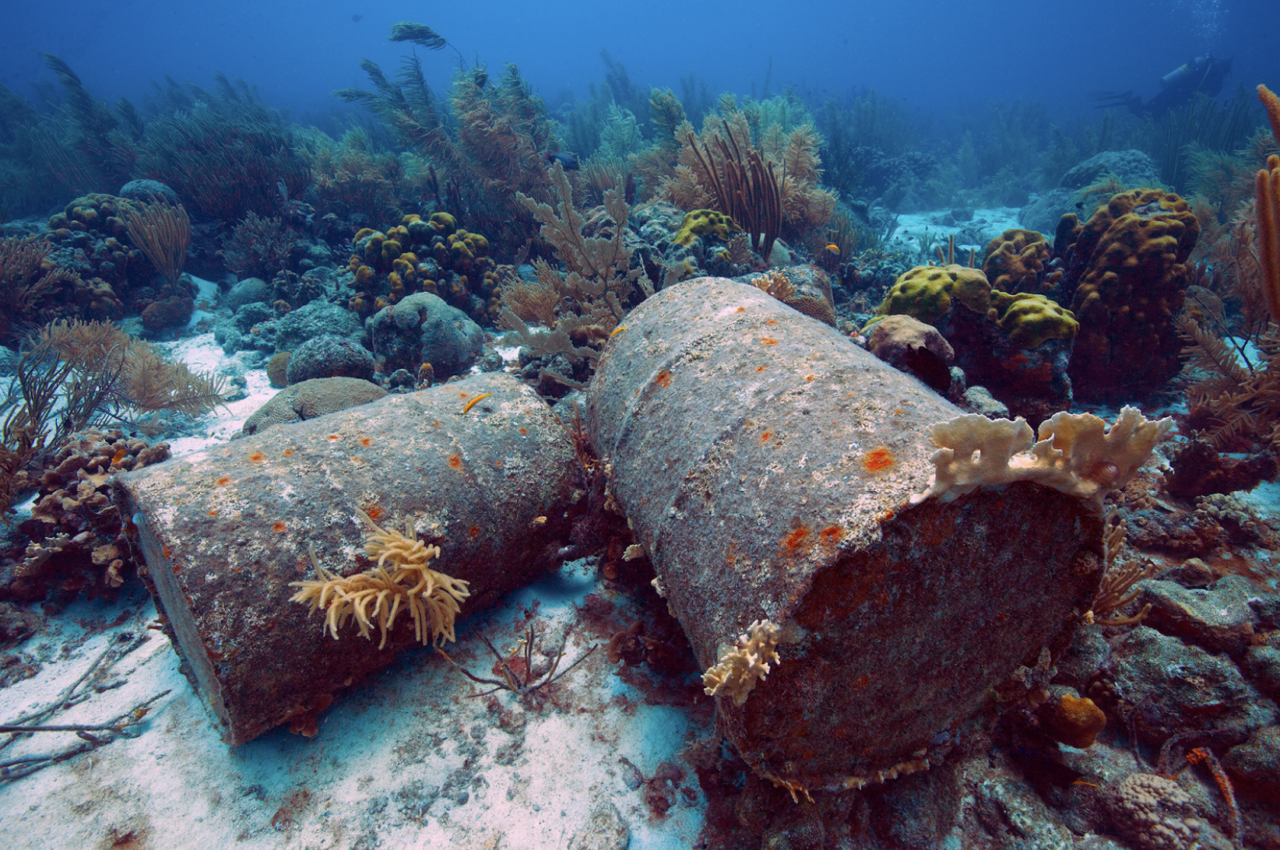 When asked how bad it is, Spooner had plenty to say: 
"The annual production of plastic has increased significantly since the 1950s. About 80% of plastic in the oceans comes from land: soda bottles, food packaging, tires, and so forth, while 20% comes from marine sources."
"Specifically, the issue of micro plastics is a difficult one. Plastic doesn't decompose, it breaks down into smaller and smaller pieces. Marine life can get entangled in fishing gear and cause serious injuries. They can also consume plastic which never digests filling their stomachs with no room for nutrition eventually becoming fatal."
This is also a problem because toxic chemicals often attach to plastic. When the plastics get that small (less than 5mm), they are more easily ingested by marine life.  The effects of this are still being researched, but some studies have already concluded that presence of microplastics may lead to reproductive impairment and genotoxicity4.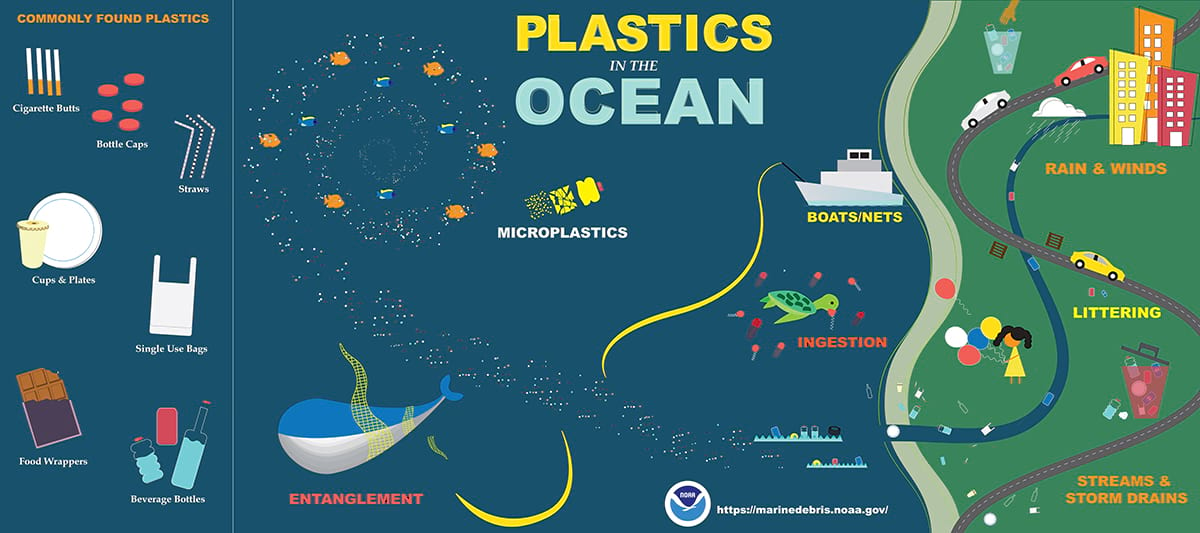 "Yet, this past March, at the United Nations Environment Assembly, 175 countries endorsed a resolution to negotiate an international legally binding agreement to "end plastic pollution" by the end of 2024." Here in the U.S., eight states have instituted their own bans on plastic bags, including Hawaii, Connecticut and New York.
"There are plenty of people taking action to find solutions," says Spooner.  "These include beach cleanups, and enacting policies that reduce the production of single use plastics. For example, In August 2014, California became the first state to enact legislation imposing a statewide ban on single-use plastic bags at large retail stores."
"We have also done really well in our progress to eliminate overfishing in the US."  That progress includes a major fishing deal that offers protection to Arctic waters, as well as an increase in marine protected areas (MPAs)2.  There's even a movement to consume invasive species (Is Invasive Species Dining the Next Frontier?).
For those less adventurous, we can keep an eye out for certifications from the Marine Stewardship Council and the Aquaculture Stewardship Council (MCS & ASC) when buying seafood, which recognize sustainable fishing practices.
How can we help the cause?
Most importantly, we can have a major input at the ballot box.  "Vote" says Spooner. "Pay attention to what environmentally friendly bills are coming out. Pay attention to the elected officials who are supporting these policies, and those who aren't. Your vote matters. Your voice matters." We are stronger when we come together as a community to tackle an issue. 
Second:  "Volunteer! There are many organizations devoted to picking up marine litter in your local community. I personally go to San Diego Surfrider foundation beach clean ups and they keep the community informed about local policies coming up."
I Love a Clean San Diego (ILACSD) also removes half a million pounds from local coastlines & creeks per year. SD Coastkeeper partners with organizations for beach cleanup challenges, and other local Meetups are available for the same purpose.
Getting involved is extremely impactful.  It strengthens your community network, improves team working skills and increases motivation for better environmental habits when you go home.  And given the last two years, screen time for most of us has shot up while time outdoors has plummeted. Getting outside is great for mental health, helping improve your mood and lower stress.
Lastly, individual actions do help as well. "Use your buying power." says Spooner.  You can influence the market by showing companies that consumers want sustainable products that help protect marine life. Small changes by average people compound into greater impact.
For starters, we can reduce the plastics we consume.  Many soap and personal care products use microbeads (read: plastic beads), which negatively impact marine life.
"How many times a year do you buy a plastic razor? A plastic toothbrush? How often do you buy toilet paper?"  Instead, she suggests reusable razors and sustainable tissue paper.  These may seem minor, but individual consumption has a big impact when scaled across both people, and time.  According to one study by NYU's Center for Sustainable Business, 50% of consumer package growth from 2013 – 2018 was from sustainably marketed products.
She's not alone in this sentiment. Oceana is an organization working to restore our failing oceans. Their primary recommendation for helping save the oceans is to demand plastic-free alternatives from companies.  
A few purchases of sustainable products isn't a drop in the ocean, but the beginning of a path to better habits. As zero-waste chef Anne-Marie Bonneau mused, "We don't need a handful of people doing zero-waste perfectly. We need millions of people doing it imperfectly."
Looking ahead
Despite the monumental task facing scientists and conservationists, Spooner is optimistic. When asked what specifically there is to be hopeful for?  "Everything. When everyone realizes their actions do make a difference and we can come together, we can make real progress".
"The greatest challenges present the greatest opportunities."  Climate change, the issues facing marine life, and the growing plastics problem are, Spooner argues, opportunities for us to invent novel solutions.
The rapid development of more afforable renewable energy sources and batteries to store that energy are incredible. The issue used to be that we didn't have the ability to store the energy after the sun went down or the wind stopped blowing but we are getting better and better at it now. In Monterey Bay they are building the world's largest battery. This battery will be able to store excess energy when solar panels and wind farms are producing electricity and feed it back into the grid when they're not. 
The Ocean Cleanup has developed several such solutions, like their floating garbage trucks and their massive net (System 001), which was deployed to the Great Pacific Garbage Patch.
The company 4ocean takes another approach, engaging with local communities to clean up ocean plastic. It is funded by purchases of their bracelets (made from recycled plastic).
"We are already making great strides to address the many issues facing the ocean," according to Spooner.  "For example, a new marine sanctuary in the Galapagos Islands protects the world's highest concentrations of sharks."  Other conservation efforts resulted in delisting several types of marine life from the endangered species list – including Green Sea turtles in Florida and Mexico, and bluefin, yellowfin, and albacore tuna across the Atlantic – major wins for marine biologists.
To continue in this direction, scientists and the public must take action in any way possible.  Innovative solutions in the field, purchasing the right products, voting, & volunteering – all will play their part. 
And those on the frontline must tackle the first step: understanding the issues we are facing, creating solutions, and importantly educating the public about this.
For Spooner, the work continues at workshops with the public and conferences with scientists.  All while exploring ways to reach new audiences. "I have launched a podcast called Ocean Optimism to tell more of these stories!"  Follow her on Twitter @SpoonerEllen to keep up to date.
Article Contribution by Connor Yanz